CRM Service Provider Companies in Gujarat. Have you ever noticed that some of the businesses experience a continuous growth over time while others experience hike in staring but eventually starts descending? Have you ever tried to analyze what could be the reason for all these differences?
After a complete analysis done by us, we found that the main reason for these differences is how organizations focus on Lead management system and Client database. We will further inform you how CRM helps you in doing so and CRM Service Provider Companies in Gujrat.
When you plan or start a business, it doesn't seem difficult to manage your contacts and customers' information. However, slowly & gradually as the business expands, you need the support of the best CRM software in India. As your customers and employees increase, you start recording information across sticky notes, notepads, memories, spreadsheets, Google sheets, etc. As a result, chances of confusion, errors, and mismanagement are very high creating the need to organize and consolidate information. Here, a CRM (Customer Relationships Management) solution plays an important role. It helps you in proper management of information. Moreover, it assists in tracking the client's activity and feedback.
WHAT IS CRM?
CRM stands for Customer Relationship Management. CRM refers to any tool, technique or strategy used by an entrepreneur/Business to acquire, retain and convert the customers. The complete customer cycle is managed via this CRM and Cloudshope ranks first amongst CRM Service Provider Companies in Gujrat.
A CRM is almost required by every sector, starting from a product or service development to a complete finished product, from marketing to sales, with conversation of client to lead conversion, from on boarding of client to up selling and cross-selling, etc. CRM plays a vital role in every organization.
Top 5 Best CRM Service Provider Companies in India
Cloudshope Technologies Pvt. Ltd.
Zoho
Salesforce
HubSpot
Maple CRM
Why Cloudshope?


Cloudshope is one of the CRM Service Provider Companies in Gujrat that offers complete customization & integration as per your requirement with a 7 days free trial.

Are you looking to enhance your sales conversions?
Do you invest in various platforms like-India Mart, Just dial, Google Ads, etc. to generate leads and get more returns or your investments?
Do you want to forecast your sales to identify target related risks beforehand?
Are you interested in increasing your sales productivity by 100%?

Then definitely you are at the right place. Cloudshope provides you the best CRM services with complete sales operation CRM, designed especially for you and your Business.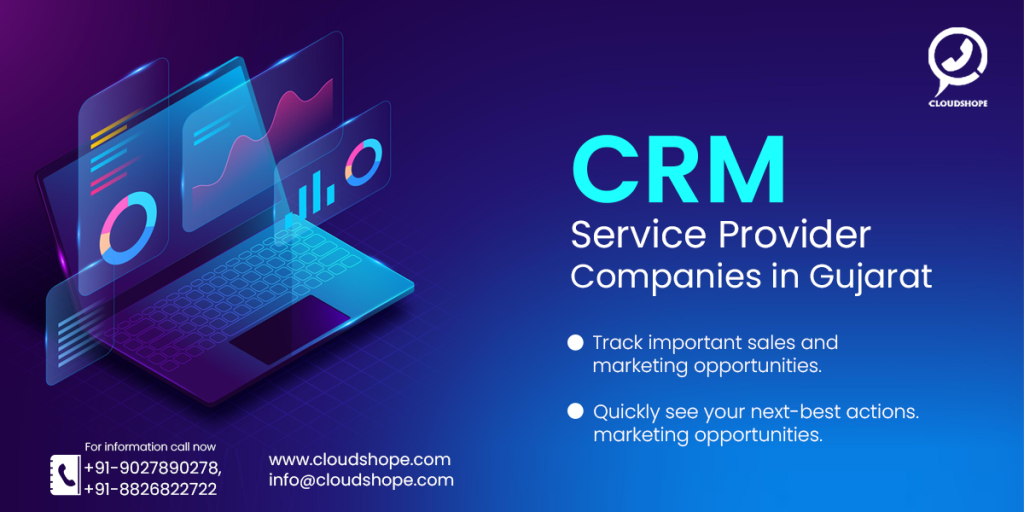 Advantages of using Cloudshope CRM-
Helps to enhance your sales follow-ups.
Helps in responding to your customers faster & focus on valuable customers.
Helps to convert more leads to Deals and then customers.
Helps you in up selling & Cross selling which further leads to increased & repetitive sales.
Helps in tracking the sales follow up.
Helps in tracking daily Tasks.
USPs of Cloudshope CRM
1) Direct integration of CRM lead to Auto Dialer Calling: Cloudshope mainly focuses on direct lead assigning from CRM to dialer for outbound call with complete track records of the lead history at a single place.
2) Cloudshope, one of the CRM Service Provider Companies in Gujrat offers you to streamline and automate all your business Process. You can automate workflows & Processes related to sales, operation, Customer support and marketing, enhancing the coordination with clients.

3) Customer satisfaction and retention is one of the most important aspects of successful business. It is the most important thing to know if your customers are happy and satisfied. If not CRM will help you in figuring out the reason and makes necessary changes as per that, making Cloudshope one of the CRM Service Provider Companies in Gujrat

4) A CRM provides you complete data of your clients. That helps in maintain the conversation with your clients at right time, which results in customer retention and helps in increased rate of return (ROI).
5) Cloudshope, one of the CRM Service Provider Companies in Gujrat offers you to keep all your leads at same place through its Cloud Based CRM without any integration and installation charges. The charges are simply based on number of user's plan. It also helps you to enable work from home culture as everything will be tracked in your CRM.
6) Having a CRM also helps you in cross selling and up selling by understating your customers better. This helps to maintain a long-lasting relation with your clients.
FINAL THOUGHT
We provide customized CRM for all type of industries like –B2B CRM, Real-State CRM, Educational industry based CRM, Tours & Travel CRM, etc. that makes Cloudshope Best CRM providers in India.

The above listed points clarify how CRM will help you in making your business better that what is currently. What are you waiting for! Avail a 7 days free trail from Cloudshope, one of the CRM Service Provider Companies in Gujrat and feel the change in your Business.
Contact Us
Company Name – CloudShope Technologies Pvt. Ltd.
Website – www.cloudshope.com
Email id – info@cloudshope.com
Contact No – 9027890278, 8826822722