The Abandoned Clip for Agent must contain the following information:
The name of your organisation
A contact telephone number of dedicated agent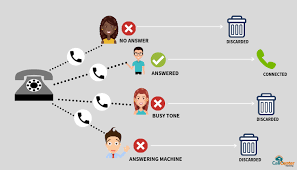 A sample abandoned clip :-
This is an automatic call from [Company name]. Unfortunately, due to some technical glitch, agents are not available to connect with you at this moment. Please hold the line. You do not need to take any action as we will get back to you at another time. If you don't want to receive any further calls from us, please press1.Thank you.
When calls are going on in predictive mode Agent Wise Call Abandon Report in CMS and agents are not available even at that time a clip can be played to generate leads not currently connected to any call, your agents will see the details on their live dashboard containing the below following information
1. Current number from the list being called and how many numbers from that list have been dialled.
2. Total number of calls done by agents using the predictive dialer today to that specific View in detail.
3. Agents can see the status of the call whether it was ringing, busy or disconnected.
4. Contacts from list currently being dialled.
As mentioned in this software Agent Wise Call Abandon Report in CMS, if someone from the list has answered a call but there is no sales agent available to discuss with client, the Predictive Dialer software will automatically play a pre-recorded message which is called Abandoned Clip for Agent to letting them know who called and how to get in touch with any sales executive. When system speed is too high then too the overall throughput do not go down as leads are still being generated by abandoned clip
You can easily search for any contact that has received and get played the abandonment clip after receiving the calls. Admin can see the Agent Wise Call Abandon Report in CMS and the total number of abandon calls from the report section which will appear in the activity history.
Any call is not considered as an Abandoned Clip for Agent if it is already answered by any live agent. A call is considered abandoned only if, after two rings, no live agents are available to receive that call then a recorded message will get played identifying the client and noting on whose behalf the call was being made. Cloudshope Technologies is one of the best predictive dialer software provider companies who are providing cloud based services. In predictive dialer Agent Wise Call Abandon Report in CMS will appear in Cloudshpe's panel. They are providing a CRM which is in built with a predictive dialer. Where after every connected call sales executive can fill the comment or remark after every call. To fill the CRM agent will get the wrap up time in that particular time only agents need to fill the details then only it will get saved in report or if call will not get connected Abandoned Clip for Agent will be played.
Cloudshope Technologies Pvt. Ltd. has so many useful features which they are providing free of cost to their users. Max retry option is also there if due to any reason the customer is not able to pick the call so the system will retry on the same number as per max retry set by admin while scheduling the campaign. Abandoned Clip for Agent is a very useful feature due to this agent will not lose any hot lead. After receiving the call when the customer will get to the reason why any agent is not there they can get hyper or they can put the number in blacklist with the help of Abandoned Clip for Agent will get easy work and not hectic.